I have always been creative.  For as long as I can remember. As a little girl, I remember trying to make my own clothes for dolls, or putting together figures to dress up made out of sticks.  Even simple things such as painting rocks or coloring the entire sidewalk with chalk.  As I grew up, my creative streak became stronger.  I even went to college for the arts. When I realized that I couldn't make much money from that right out of college, I ditched it.  Maybe that was dumb, but I think everything happens for a reason.
Although I moved the college thing aside, I have always kept my creative streak. I got into technology developing websites, so my artistic ability really came alive in my field. I still did things like sketch and water paint. Perhaps I pressed flowers, made photo collages, even some scrap booking.  I did a lot of doodling, a lot of journaling, experimenting with cooking.  I even found creativity being an aerobics instructor.  I got to design my own choreography and blend my own music.  I never lost my creativity.
My life changed recently.  I met someone who really did change my life.  All of a sudden, I am decorating like a crazy person, cooking dishes that I would never have attempted, and even getting creative with my shopping trying to save as  much money possible.
Then my eyes started wandering over women's beautiful jewelry. I even started attending jewelry parties, asking people about their pieces and putting jewelry in my shopping routine. I became a huge fan of jewelry, especially bracelets!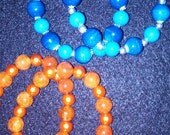 Then one day, my favorite elastic cuff bracelet that I got from Target broke. I was crushed! I wanted to see about a replacement, and I couldn't find one. I was stuck – I didn't know what do. I noticed the elastic threading had broke, so I started Googling to see if there was a way that I could fix it myself. Don't you know with all my research, I built up the confidence to make my own bracelets.
My favorite bracelets to craft is glass beads on elastic. It's a forgiving size, and it can easily be put back together if it ever breaks. I've got other mediums that I use as well. So enjoy my blog and be sure to check out my bracelets and other jewelry.