I recently created a chain style necklace that I found to be pretty popular.  A major component that I used to make this was beaded-chain, or quick links as some people call it.  I finished it up with some cone findings to give it a polished look.  The wonderful part about this necklace is that you can make it in any size you want, and mix this up with any beaded-chain that you want.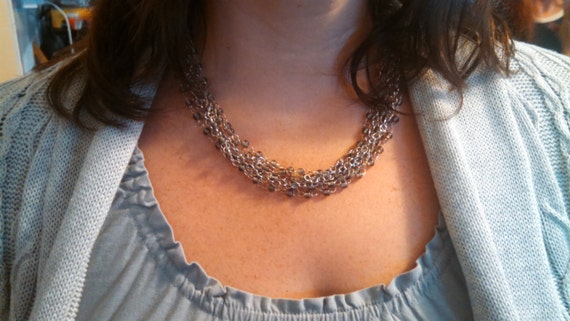 This is a great project for a beginner who is looking to bump up to intermediate.  It will take you about an hour or so, only because I took out the guess work.  Let's get started.
You will need the following materials to complete this project:
Beaded Chain – any color, any length.  As you can see, I folded mine into quarters.  You can do thirds, halves…anything depending on the size of your necklace.
Primary Chain – Whatever layers you want to add on, make sure you have enough length for it.  Make sure length matches beaded chain folds.
Secondary Chain – You can use the same as your primary chain, but I would recommend one single strand that I very sturdy.
Two cone findings
One Alligator Clasp
Three smaller jump rings
One larger jump ring (not shown)
Two oval jump rings
2 pieces of wire (20 gauge-ish), with a loop wrapped around it.  Looping and wrapping this before getting started will save you troubles.
Basic wire working tools – pliers, needle nose, etc.
STEP ONE: Cut beaded chain and primary chain to match the same length.  Take the time to be picky about this.
STEP TWO: Open an oval jump ring and string through one side of the necklace.  This will include all strands to complete one end of your necklace, and one of the wire loops that you created:
STEP THREE:  Crush the oval jump ring with pliers to make it a little more thin so the cone finding can cover it.
STEP FOUR: Slide cone finding over wire and cover the oval jump ring:
STEP FIVE: Time to fire the bullet: wrap the wire out of the end of the cone to start to make a loop:
STEP SIX: Finalize your loop – don't worry about sloppiness.  That's part of the charm:
STEP SEVEN: Cut your secondary chain as long as you would like the focal part of your necklace to hang.  I would recommend no longer the just the collar bone.  Swing it around the back of your neck and look at a mirror.  Decide where you want the multi-chain necklace to begin.
STEP EIGHT: Attach your secondary chain using two of the smaller jump rings to the main portion of your necklace:
STEP NINE: Cut the secondary chain in the back.  Attach a lobster claw using your last smaller jump ring.  Add a larger, solid jump ring on the other side to complete the clasp set.
DONE!  This piece can be as versatile as you like.  Do you have ideas for variations?  Let me know.  Open her up, and be as creative with it as you can get.  I dare you ❤
Happy Thanksgiving!  ::C